You will listen to post-rock and you'll like it!
I love post-rock... pretty much more than any kind of music. It was only a matter of time before i made a post completely devoted to it. I would like to say in advance to any readers who love post-rock as much as i do, that this may basically be an insult to you. This isnt for you, it's for the uninitiated. So, here are some of my favorite(and most accesible) "post-rock" bands and some songs by them. Enjoy!
MOGWAI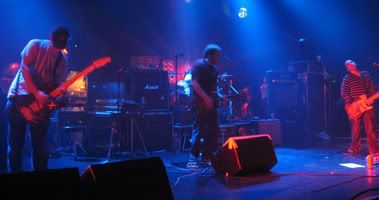 Mogwai is Stuart Braithwaite (guitar), Dominic Aitchison (bass), John Cummings (guitar) and Martin Bulloch (drums)... four Glaswegians who watch soccer and play glowering, volatile instrumental rock, with a slowly unravelling dynamic diametrically opposed to the mainstream. They're live shows are regarded as the loudest you will ever hear and they even recommend earplugs.
Mogwai
Summer
Mogwai
2 Rights Make 1 Wrong
GODSPEED YOU BLACK EMPEROR!

In their words...
"we play instrumental music without a singer but no singer/no lyrics does not equal nothing to say - we're not interested in plinking away on maudlin, passive, pretty little melodies that are largely hollow with nothing to support it - so we try to provide folks with triggers - create some sort of context - and that comes in the form of written tracts included in godspeed records, film projections that we put together for live shows as well as the found sound shit that gets weaved into the overall godspeed narratives and ends up as part of a godspeed recording."
Godspeed You Black Emperor!
Dead Methany (live)
EXPLOSIONS IN THE SKY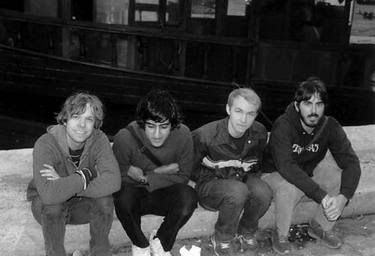 Explosions In The Sky are some of the most sincere folks you will ever meet. Aside from being nice guys, they play some of the most passionate, powerful instrumental music you will ever hear. Equal parts romance and tragedy, their beautiful melodies have the tendency to ignite into head-spinning walls of noise. Easily one of the most intense live bands ever, their sound proves to be every bit as triumphant as their name implies.
Explosions in the Sky
The Only Moment We Were Alone
Explosions in the Sky
Memorial (live)
MONO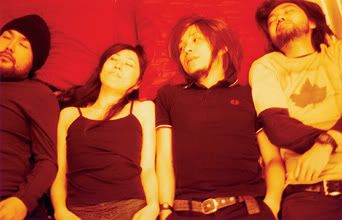 Tokyo, Japan's Mono have quickly become one of the most passionately aggressive rock bands of the last decade, with their soaring crescendos, titanic sheets of distortion and dark melodies executed with the delicacy and precision of a paper crane. What's that? You dont want to hear japanese singing do you? But wait, this is "post-rock" remember... there not singing, so dont worry.
Mono
Halcyon(Beautiful Days)
Now, I'm not saying you have to listen to all of that... you may have not even read it all. But, really, do yourself a favor and listen to something different, maybe you'll really like it. If I find most of my readers hate post-rock, I'll limit my posts involving them, as to spare you, and well, keep you reading.

Stumble It!