Jason Believes Me, You Can't Trust Your Dreams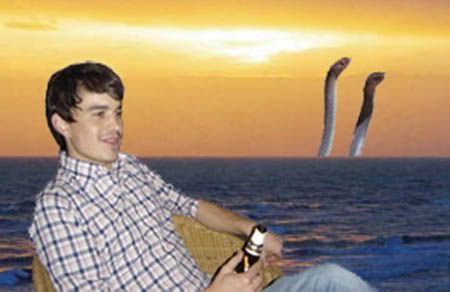 Spencer Krug's other, other band Sunset Rubdown released a new EP on Global Symphonic on January 11th. It's quite a differerent sound than that of his much more popular band Wolf Parade. Sunset Rubdown make lush psychadelic infused pop with a lot of exotic noises and whimsical vocals. It's funny because the one press shot available for the band(pictured above) actually looks a lot like the band sounds. Here is a new track from the new EP.
[MP3]:
Sunset Rubdown :: Jason Believes Me, You Can't Trust Your Dreams
This song sounds a bit like a fairy tale of sorts, in the sense that I can feel like I'm watching a scene from a book as I listen. Musically it's a very lush sound with acoustic guitar and keyboard interplay and a recorder or possibly a set of woodwinds hovering over. In fact, I think the simple woodwind line is my favorite part of the song.
Buy
the EP from
Global Symphonic
for just $6.00!.
Dreams of Horses
one of my favorite blogs out there, If you don't read you should really start doing so. Right now he's got
a new acoustic Yeah Yeah Yeahs track
that may or may not be on the new album.
Dodge has two new Gossip Tracks, another cute husband and wife band, and a snazzy new layout
.
Also, hurry over to B(OOT)LOG and download the
tracks he's posted from Belle and Sebastians's recent BBC6 appearance
.

Stumble It!