The Go! Team - "Huddle Flash"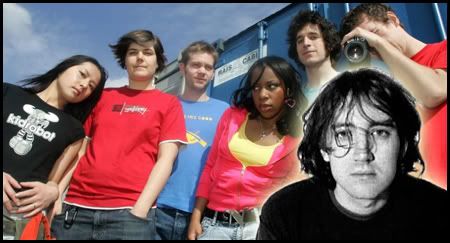 Got a neat little CD in the mail this morning from
The Go! Team
called
Audio Assault Course: The College Radio Sessions
. The radio sessions are great and capture the band's live sound really well, but I've posted around multiple times before so I didn't bother with those. However, aside from the radio sessions, the disc also came with a track called "Huddle Flash."
[MP3]:
The Go! Team :: Huddle Flash (Kevin Shields -v- The Go! Team)
This track a veritable mash-up of, obviously, "Huddle Formation" and "Lady Flash," remixed by Mr. Kevin Shields of the late My Bloody Valentine. Kevin uses mostly the instrumentation of "Lady Flash" and the vocal melodies seen on "Huddle Formation" along with some unforseen joyous shouting and noises. This track makes me happy to be alive.
The Go! Team on MySpace
.
Check this out:
Bread for Music
is a website that utilizes the same technology as Wikipedia, but soley for music lyrics. It's still getting started as of yet, but head over there and check it out, and maybe add a few lyrics to their quickly growing database. The great thing about this is that it's all editable, so if one user posts the wrong lyrics, someone else can go and correct them. Neat? Neat.

Stumble It!