Who's Gonna Care?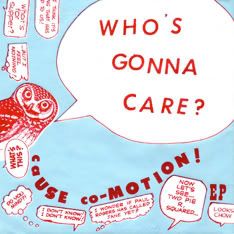 Having just listened to the totally rad NYC band's new-ish-ish "Who's Gonna Care?" 7" EP,
caUSE co-MOTION
should not only be applauded for their brilliant nonsensical crashpop, but also for the expediency of their personal shipping, as the record basically arrived on my doorstep before I even finished closing the paypal window. It was actually released back in February on the band's own Can't! Cope! Records, but I just realized this fact about a week ago and quickly snapped it up! Glad I did, too, cause it's awesome. a-side, "You Don't Know" is my personal favorite – a perfect blend of chiming, jangling guitars and caUSE co-MOTION's typical quick paced frenzy – think, perhaps, if you can, Comet Gain's "Red Menace" EP. The title track is my second favorite, with the others not close behind. I would highly suggest grabbing this and getting yourself pumped up for their new Slumberland 7" which you can
PREORDER
right now!
But go here first, and get this EP
. Listen to "Who's Gonna Care?"
[MP3]:
caUSE co-MOTION :: Who's Gonna Care?
(Highly Recommended!)
caUSE co-MOTION on MySpace!
Labels: caUSE co-MOTION, Comet Gain, Slumberland

Stumble It!