Kid Theodore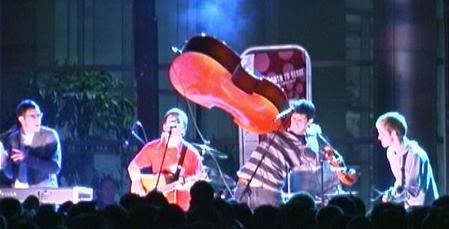 Being a blogger, my inbox is typically flooded with "check out my band" emails. I try to get to every one of them that I recieve, but sometimes I just can't. But the one's that get my attention first are the one's with distinguishing uniqueness. Humor and/or appealing photos will make me more interested, and such was the case with Kid Theodore and the above picture that was included in the email. The fact that they even have an upright bass would've been enough, but no, he's holding it up and playing it behind his back. I had no choice but to listen.
In the band's own words, "Kid Theodore, though a very young band, has years of experience within it. Each member has been playing in bands since they were at least 15-16yrs of age; three of which have released albums. All band members know how to play multiple instruments. As for showmanship, they put on an entertaining extravaganza, sure to wow those in attendance, through their stage acrobatics and antics."
If you could mix early Tom Waits with the Kinks, or Belle and Sebastian with Johnny Cash, add in some Jazz and touch it with Radio Head then you'd get a pretty good idea of what Kid Theodore sounds like. "Lonely Angel" starts out with one of the best intros I've heard in quite a while with handclaps and a thumping bassline that you just can't sit down and listen to, it almost demands movement. The lyrics and vocals are executed so perfectly and the song is just pure fun. "I am a Moth" however, takes a completely different route. It's a beautiful slow burning acoustic ballad and the vocals almost sound a blend of Thom Yorke and John Mayer, or well, whoever it sounds like, I really love it.
[MP3]: From Goodnight... Goodnight
Lonely Angel
I am a Moth

Kid Theodore has just finished recording their first EP, Goodnight... Goodnight, and will have it available for purchase by early February of 2006.

Stumble It!