The Young Republic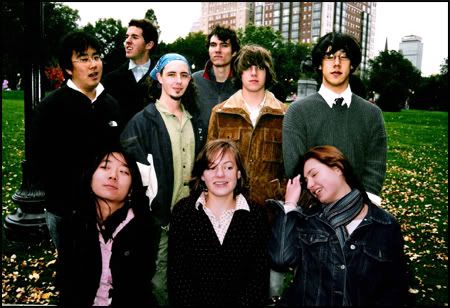 You know the saying "
less is more
"? Well, it doesn't always apply. For example, cookies; who would really want just one cookie if they could have like nine AND a glass of milk. It also doesn't apply to bands (see: Broken Social Scene, Godspeed You Black Emperor!, Belle and Sebastian, Architecture In Helsinki... the list goes on). Well here's another band to add to that list.
The Young Republic
was started in 2004 by eleven ambitious men and women. Unfortunately, two of them eventually became a little less ambitious and left, but when you've got eleven bands members, I suppose you can spare a few. Now, about the music: they make lush orchestral folk pop, that's the best way to describe it. Sounding a good deal like a folkier Belle and Sebastian and also sounding pretty Arcade Fiery at times, this is band anyone can get into. Songwriter, Julian Saporiti, writes simple songs about love and lets his band turn them into something grand and beautiful. The Young Republic hope to have their new album
Modern Plays
out by mid-January, which--as all you calendar watchers know--is pretty soon. So if you like what you hear, hear over to their website and find out how to get it!
[MP3]:
The Painter
(Rec'd)
Modern Plays
Girl From the Northern States

Stumble It!