It Was All For The Money!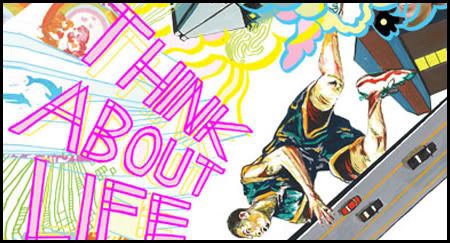 Think About Life
have been causing panic on dance floors and concert halls alike since the word began to spread quicker than avian flu following their first couple of shows. After just a few gigs, they were personally invited by Wolf Parade to be their support act during last year's autumn tour. The band is led by Graham Van Pelt, a multi-instrumentalist and recording studio proprietor. Matt Shane is on drums and vocal duties are led by Martin Cesar, main man behind Dishwasher and shared by Shane and Van Pelt. Think About Life's debut recording is riddled with catchy, memorable, energy-loaded pop songs complete with keyboard freakouts, overdriven vocals, and some of the most dancable melodies I've heard this year. "Money," from their forthcoming self-titled debut, could easily be the underground dancefloor anthem of 2006.
[MP3]:
Think About Life :: Money
(VERY HIGHLY REC'D!!!!)
The song opens with a church organ-sounding keybard line with Matt Shane tinkering away on his cymbals and then comes my favorite part of this band, the vocals. The vocals sing along in a hush reminiscent of the vocal stylings of TV on the Radio, then once you get settled in the bottom drops out, ringing keyboards and crashes hitting your ears at every angle and then at about 3:15, something magical happens. The whole band gets in on the fun(shouting, screeching) singing "It was all for the money!" and you just start singing along like you've known this song your whole life.
The self-titled debut by Think About Life will be released May 2nd on
Alien 8 Recordings
and you can buy it from
their store
, and maybe grab a Unicorns t-shirt while you're at it.
Think About Life on MySpace
.

Stumble It!