Lost Summer Kitten: "Lovesong No. 1"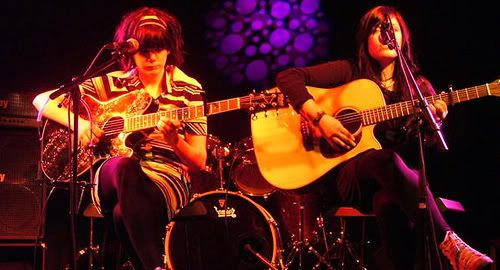 Lost Summer Kitten
First off, Happy New Year! I had a wonderful new years and I hope you did too!
Now I'll introduce you to the music that I've listened to more over this Winter break than all other music combined. That music is the music made by
Lost Summer Kitten
. When half of their first band decided to leave and move out of Sweden back in 2005, what originally began as a side project for Lisa Westerlund and Matilda Hjärtstam, had now become their main project. Left with nothing but sad feelings and some acoustic guitars, the two girl did what anyone would do. They made up an almost overbearingly cute name, wrote some songs and made a really great ep about their sad feelings. It's like depressed tweepop. I think you'll really like it. This song is from that ep about sad feelings called
Yeah Oh Wow
.
[MP3]:
Lost Summer Kitten :: Lovesong No. 1
(Really
Really
Recommended!)
The song opens with fragilest of fragile picked guitar, slowly becoming more and more audible beore it's met by equally fragile vocals. This song is just really beautiful and really sad, that's really all I can say about it. It's a lovesong, obviously, with lines like "keep me in mind, when you're heading down that line" able to melt the hearts of anyone with a heart to melt. Will it melt yours? Who knows.
Buy
Yeah Oh Wow
from
Popkonst
Lost Summer Kitten on MySpace

Stumble It!