Skatterbrain's Top Songs Of The Year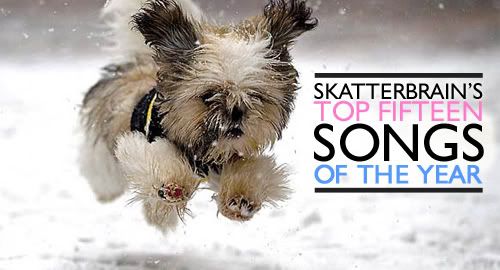 What it says, mang.
As you'll eventually notice, this is technically a top 30. However, I've only ordered the top 15. The rest are unordered and sans-MP3. I would discuss the matter further, but really, this list is fairly self-explanatory. If you have any questions please direct yourself to the comments and ask it. These are the songs that shaped my year, for better or for worse.
The Top 15:

01.

[MP3]:
Pants Yell! :: Our Turf
This was my "song" of 2006. Who knew a barely two-minute long instrumental pop song could be a song of the year? It easily illustrates just about any scene of daily life perfectly and I think that's why I still find it to be so great.
02.

[MP3]:
The Most Serene Republic :: You're Not An Astronaut
If there was any song that I listened to as much as "Our Turf," this would no doubt be it. The absolutely dumbfounding drums in the beginning only hint at the awesomeness that soons follows.
03.

[MP3]:
The Pipettes :: Pull Shapes
This was hard pick. It was a toss-up between "Pull Shapes" and "You're Kisses Are Wasted On Me," and then I realized that it's really not THAT important, so I just picked one. In the end I picked "Pull Shapes," and I think most of us can agree that it's damn fine song to dance to.
04.

[MP3]:
Belle And Sebastian :: Sukie In The Graveyard
That guitar solo at 1:15! That bassline at 1:45! Good God!
05.

[MP3]:
The Knife :: We Share Our Mother's Health
This is like, the indie hipster's "Thriller." Spooky, yet, dancable. Also one of the finest beats of the year. Yknow, since I'm a huge expert on beats and all...
06.

[MP3]:
Joanna Newsom :: Emily
This was the only song I had heard from
Ys
, prior to hearing
Ys
, and it still remains my very favorite song from that album. Honorable mention though, to "Monkey & Bear," who ran a very good race up until the very end.
07.

[MP3]:
Sunset Rubdown :: Shut Up I Am Dreaming...
It's a shame I didn't love the whole album as much as I love this song, cause oh man is it an awesome song. The first time I heard that guitar solo, my jaw dropped and I just started drooling all over my desk.
08.

[MP3]:
Continental Divide :: The Days Go By, But He's Old
Several of you may remember this as the song I posted two days in row due to heaps and heaps of incorrect and missing information. I had no time to waste though, I
HAD
to post it as soon I heard it. A whole album of this would be amazing.
09.

[MP3]:
The Airfields :: Nowhere Left To Go
The Airfields' brand of shoegaze-twee-pop is absolutely irresistible to my ears. Their
Laneways
EP is full of tracks right on par with this one, which is saying a lot, cause this one's fantastic!
10.

[MP3]:
Voxtrot :: Rise Up In The Dirt
When I first heard this baby, I thought it had a good shot at being my song of the year. It dropped off a teeny bit, but it's still the best song they've ever written.
11.

[MP3]:
Rainer Maria :: Clear And True
See
here
.
12.

[MP3]:
Camera Obscura :: Lloyd, I'm Ready To Be Heartbroken
I never really fell in love with this whole album but this was definitely one of the finest pop songs of the year and arguably the best song Camera Obscura has ever penned.
13.

[MP3]:
Arrah And The Ferns :: Tokyo, Tokyo
In my opinion, Arrah And The Ferns'
Even Is A Vegan
is probably one of the most criminally overlooked albums of the year. Every song on the album is a banjo-pop gem; "Tokyo, Tokyo" being my very favorite of the bunch. The end is just so...wow!
14.

[MP3]:
Love Is All :: Spinning And Scratching
The only comment I have is that I wish I could meet the keys that Love Is All's Josephine Olausson can, because then I could sing this song in front of people, instead of butchering it to death at the top of my lungs in the privacy of my own car.
15.

[MP3]:
Metallic Falcons :: Nighttime And Morning
This manages what many would assume to be impossible. While being utterly creepy as hell, it manages to somehow also be awesomely catchy. I didn't really get it the first time I heard it, and I still really don't, but "nighttime is for the boy who can fly" is one of my favorite lines of the year.
The "Best of the Rest," so to speak:
Grizzly Bear :: Knife
Beirut :: Postcards From Italy
I'm From Barcelona :: We're From Barcelona
Mono :: Yearning
The Besties :: Prison Song
Headlights :: Put Us Back Together Right
The Grates :: Lies Are Much More Fun
Mogwai :: We're No Here
Mates Of State :: Nature And The Wreck
Broadcast :: Unchanging Window
The Lovely Feathers :: Breakfast Cake
Holy Shit :: Written All Over Your Face
D+ :: Hear Lies: Red, White And Blue
Ms. John Soda :: Outlined View
Cansei De Ser Sexy :: Music Is My Hot Hot Sex
That's it folks. That's all she wrote. Fin.
If you've yet to see it:
Skatterbrain's Top 15 Albums of 2006

Stumble It!