Parenthetical Girls: "Festive Friends Forever"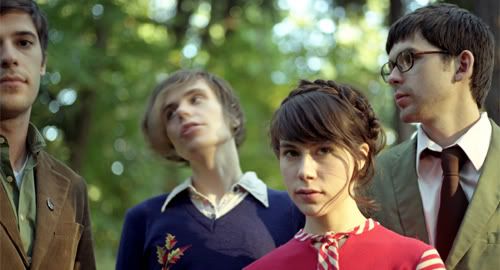 A Parenthetical Girls Family Christmas
Hello friends! Although the header probably gave it away a few days ago, I'm now heavily into the Christmas spirit. Last night I finished up most of the decorating I'll be doing and I managed to not burn down the house with the hundreds of pine-scented candles I had going! My decorating aside, you've probably realized that I haven't made any sort of Christmas related post yet, and you might be asking why. Well, it looks to me like every other blog on the face of the earth have already satisfied your indie holiday tastes already. Now, if I could get the CD to rip, I would be posting a few of my favorite Dolly Parton and Kenny Rogers holiday tunes, but alas, that looks like it's not gonna be happening.
However, I've got a more than suitable solution! Some of you may be familar with
Parenthetical Girls
. They released an album this year called
Safe As Houses
and it's pretty great. If you still don't know who they are, I'd reckon that now might be a good time to utilize your good pal
Google
. ANYWAY, they put a totally awesome Christmas EP this year, appropriately titled
A Parenthetical Girls Family Christmas
. I've been listening to it over and over and over lately, and this song in particular has now become one of my favorite Christmas songs ever.
[MP3]:
Parenthetical Girls :: Festive Friends Forever
(Highly Recommended!)
Like almost any Christmas song, there's just something about the combination of sleigh bells and glockenspiel that just brings a smile to my face. This song is much more than bells though. From the organ and glitched out pops and snaps to the festive harmonies, this song is just perfect. When a song opens with "Festive friends, it's Christmas time again," it just really can't go wrong.
If you like this song and would like to hear more from the EP, let me know in the comments!
Buy
Safe As Houses
from
Slender Means Society
*************************************************
Seriously, my list is almost done, I swear!

Stumble It!