Another Sunny Day: You Should All Be Murdered 7"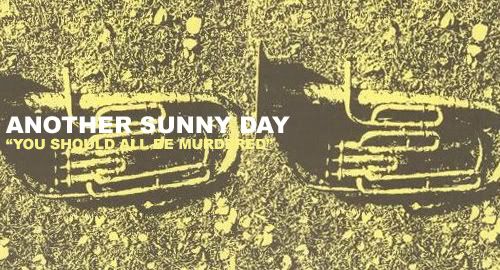 "You Should All Be Murdered"
(sarah022)
These days I listen to a lot more older stuff than new stuff, and some of this old stuff is out-of-print/hard-to-find/M.I.A./whatever, so I guess what I'm trying to say is I think it'd be pretty fun to post a lot more old singles than I currently do. They're all out of print 7"s basically, so I'm assuming it's cool to spread them around and stuff. Anyway, yeah I hope some people like the idea of this, I think it'll be more enjoyable and fantastic.
The way I see it is there's no better way to get going than to share with you what is probably my favorite single ever: Another Sunny Day's grimly titled "You Should All Be Murdered" b/w "Horseriding" and "Green." Released on Sarah Records back in 1989, it was one of the label's most popular records ever, likely due to the leading track's overall "Smiths-ness." Deritavive or not, it really doesn't matter, it's an amazing song and an amazing single and one of my favorite songs ever.
Another Sunny Day
You Should All Be Murdered
[Sarah Records, 1989]
DOWNLOAD IT
(.ZIP File, 15mb)
Tracklist:
1. You Should All be Murdered
2. Horseriding
3. Green
Labels: Another Sunny Day, Sarah

Stumble It!