Interview with Ali Howard of Lucky Soul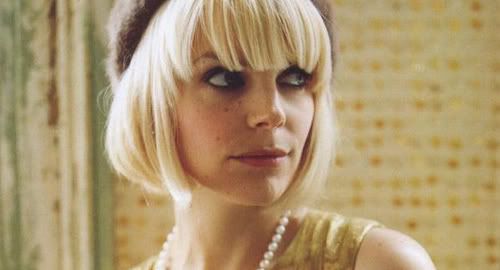 Ali Howard of Lucky Soul
I've expressed my great love for
Lucky Soul
more than a few times before and I still can't get enough of their new record
The Great Unwanted
. It's as good as I'd hoped it would be and it's definitely an early contender for one of my favorite albums of the year. I recently asked Ali Howard some questions and she was nice enough to answer them for me/you/us/everyone! Pick up the new record
HERE
!
[MP3]:
Lucky Soul :: The Great Unwanted
(Highly Recommended!)
If you could, please tell us a little bit about the band and how you guys got started (or perhaps, "re-started").
Andrew and Nathaniel go way back. They were in a band together in Liverpool and it was only when they decided to move down to London with another friend to start the label that Lucky Soul really came about as we know it now. But it wasn't long before Lucy and Tom (the original singer and bassist) had a baby together and left the band, so there was a bit of a false start. By all accounts Ivor was 'rescued' from some kind of blues jam; I saw an ad in Loot whilst looking for a flat; we found Toby in the pub, and Malcolm (an old mate of Toby's) came along about a year later, once we'd started gigging and realised there was a gaping hole in the live sound.
After releasing a bunch of fantastic singles over the past couple years, the full length is finally right around the corner --- are you pretty happy with how it turned out?
I wish I could sit down and listen to the album objectively, like any other punter, but I can't. All I know is that we put our heart and soul into it and that's something to be proud of. Whether it's any good is for everyone else to decide, but I think the songs are fantastic and we've been really brave with the production. It's pretty shameless! Today I think it's amazing and tomorrow I'll probably hate it. Oh I don't know. I'll listen to it again in about a year and let you know.
Besides the record coming out, what else has Lucky Soul been up to? Can we expect any type of tour soon?
It's all been a bit hectic, what with getting the album out ourselves – we've been sticking labels on the CDs and sending them off in old Monster Munch boxes. (We really are that DIY!) And we've just got back from playing a festival in Sweden with Plan B and The Futureheads. It was an eclectic line up and we were the only three British acts out there, which was really bizarre but brilliant at the same time. We bonded with Plan B strangely! Then we're off to Madrid in a week or so, which should be fun. We're really looking forward to getting out of London and seeing some more of the UK but we might need a new bus first as ours is falling apart.
Speaking of touring, what's it like to tour and make music with a bunch of guys? Any interesting stories?
There are lots of interesting stories, but you know what they say? What goes on tour stays on tour! We do have a right old laugh though, and it's brilliant fun meeting new people and going to places like Umea in Sweden, where you wouldn't necessarily go to on holiday. I'm really just one of the lads when it comes to touring and making music with the boys. A lot of it involves beer and football.
What are some of your favourite records of the year so far?
I loved the Broken Family Band's song 'Alone In The Makeout Room'. It's really quite dark and it features Eddi Reader on the single version, and Cat Power's 'The Greatest' has been on my CD player quite a bit too.
Labels: Lucky Soul

Stumble It!