Sarandon: Joe's Record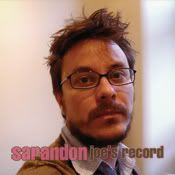 I've had
Sarandon
's new 7" single on the record player for more than a few weeks now, but I consistently forgotten to mention it here. Better late than never, I say.
Joe's Record
is three excellent tracks of erratic, jangling post-punk no doubt inspired by roughly half of that one tape some magazine released back in 1986. Not surprising though, as the band's fronted by
xQPwRtz
's Crayola and now they've even got Alan Brown of bIG fLAME playing bass.
The Joe's Record 7" is out now on Slumberland Records
. It's on bright pink vinyl and limited to just 600 copies, just in case you needed another reason as to why you should own it immediately. Here's another reason:
[MP3]:
Sarandon :: The Linguist
(Highly Rec'd!)
Sarandon on MySpace
Labels: bIG fLAME, C86, Sarandon, Slumberland

Stumble It!