Bye!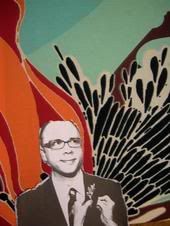 Bye!
(exclamation mark included) is the new musical thing from Archie Moore formerly of Velocity Girl, Black Tambourine, The Saturday People, Heartworms, and Lilys – basically all of the best bands to ever be within the same state as me, and almost half of Slumberland's back catalog, heh. It's only fitting then that Mike chose to include Archie's Bye! in the upcoming
Slumberland
split 7" series,
Searching For The Now
. Bye! will be on 7" #2 in the series, sharing a record with the fantastic
Happy Couple
. Bye now you should probably be under the assumption that Bye! is awesome – and you would be right – as long as the tracks streaming on Bye!'s MySpace right now are any indication. Make sure you listen to "Everything Is Okay" and "Oh No Baby Don't", they're my favs. "Everything Is Okay" recalls the noisy shoegaze of Archie's previous band The Lilys, while "Oh No Baby Don't" is a more 60s pop influenced, even SLGTM-esque song. For what it's worth, I Listened to "Oh No Baby Don't" at least 15 times on repeat the first time I heard it. OH YEAH, and Pam Berry on backups. Archie has most definitely NOT lost his touch.
Listen to Bye! on MySpace
Future installments of the
Searching For The Now
series will include: A Sunny Day in Glasgow, Public Record, Summer Cats, The Pains of Being Pure At Heart, Brown Recluse Sings, Liechtenstein, Boyracer, The Faintest Ideas, Sunny Street, Pipas, In Interview, Strange Idols, Mytty Archer and many, many more.
HOT DAMN, GO SLUMBERLAND!
Labels: Black Tambourine, Bye, DC, Slumberland

Stumble It!