New Muslims 7"!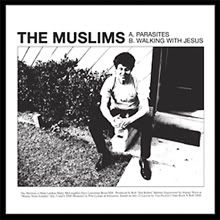 The Muslims
have got a new 7" single on the way on
I Hate Rock N' Roll Records
! Yessss! Aside from having the kind of band name that makes one go "Oh?", The Muslims play really good music. Absolutely nailing their brilliantly catchy three-chord garage pop, The Muslims – though still pretty young – work together their surf and punk influences with a confidence that is, well, pretty stunning. Their first single, "Extinction" was an absolute gem of a song, and this new single seems as if it will only further my love for them. "Parasite" b/w "Walking with Jesus" (a Spaceman 3 cover!) should be out soon, but you can go
PREORDER it now from I Hate Rock N' Roll
. You can also stream both songs there, so you should probably do that. After that, I'd really suggest watching the really really great video for the really really great song, "Extinction".
Labels: I Hate Rock N Roll, San Diego, The Muslims

Stumble It!