All My Summer Songs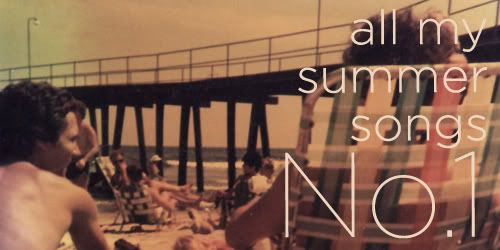 Number One!
I've decided to start a new, season-specific feature here at Skatterbrain! For an as-yet-undetermined amount of time I will be posting some of my very favorite Summer songs. My hope is that perhaps is that it will be a fun thing to do on a regular basis and that it might also spur a little discussion from time to time, which is always nice. All the songs could even be compiled at the end into a super perfect Summer mixtape!
I was thinking that some guest posts might be fun for this as well, so if there's a song that your Summer wouldn't be complete without, send it to 83in05 [at] gmail [dot] com, along with some blurbage for a post and you'll see it here! Yay! This is going to be fun. Songs don't have to actually be about Summer, or have "Summer" in the title (though many will, because songs written about Summer tend to have a pretty nice Summer feeling about them), they just have to make me (or you) feel all sunny and happy – you know, that Summer feeling.
To get things rolling, here's a pretty unbeatable one for me.
[MP3]:
The Pearly Gatecrashers :: In The Summer
This song comes from their 1993 LP
New! Fluffy! Delicious!
and although I only heard it for the first time a few years ago, it's dreamy brilliance was too much to resist. This one goes on repeat quite a lot for three months a year. A drive to Ocean City just not complete without a few listens to "In The Summer." The jangly guitar paired with Lenore's vocals are more refreshing than a 60mph breeze through the window, really!
Labels: All My Summer Songs, The Pearly Gatecrashers

Stumble It!