June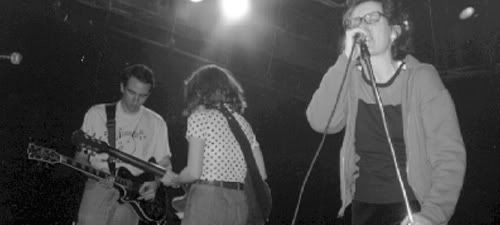 Chapel Hill's June
Though it wasn't all that long ago, I've already forgotten where I heard of June in the first place, but I'm so glad glad I took the chance and downloaded their singles. I'm typically sold on "90s Chapel Hill" anyway, but reviews and descriptions only made them sound even sweeter. June don't sound all that sweet, though. Amongst the woven guitar lines and bursts of fuzz and distortion, Kat Cook's vocal harmonies still manage to steal the show in most of June's recordings. Way up front and mostly bereft of reverb or any other kind of effects, her voice ends up playing a very powerful role and the lines stick to you like glue almost immediately. They released three singles—one of which produced by Mr. Mitch Easter—and one one album in 1996 before breaking up nearly a month after. I've still yet to hear the full-length, but the three singles have been hogging most of my ear-time lately. Listen to "Stripteaser", the A-side from their second single in 1993 of the same name.
[MP3]:
June "Stripteaser"
(Highly Recommended!)
Labels: Chapel Hill, June

Stumble It!