The Elected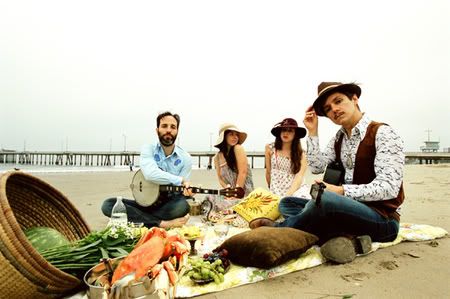 Some of you may know Blake Sennet from his wonderful work in Rilo Kiley, those of you who don't, well, thats a shame. Either way, he's got another band that is, in my opinion, just as good as Rilo Kiley. The Elected are a wonderful blend of Rilo Kiley's amazingly perfect pop melodies and Fevers and Mirrors era Bright Eyes creativity and angst. Actually, if I hadn't known better, I would have thought the two songs I heard came right off of some Bright Eyes record I'd never heard.
On January 26th, Sun, Sun, Sun, the follow-up to 2004's Me First, will be released via SubPop and I am highly excited about it. SubPop says, "Sun, Sun, Sun was recorded largely in motel rooms while singer songwriter Blake Sennett was on tour with his other band, Rilo Kiley, the album is propelled by the kind of unsettled, exploratory impetus that is only native to the American open road. Blake says, "I'll listen to it and think, "That was recorded in a hotel in Missoula! That, we did in the van!"
Blake Sennet is apparently very easily excited. The tracklist is as follows:

1. Clouds Parting (8:14 a.m.)
2. Would You Come with Me
3. Fireflies in a Steel Mill
4. Not Going Home
5. It Was Love
6. Sun, Sun, Sun
7. Did Me Good
8. The Bank and Trust
9. Old Times
10. Desiree
11. I'll Be Your Man
12. Beautiful Rainbow
13. Biggest Star
14. At Home (Time Unknown)

[MP3]: From Me First
Greetings In Braile (Highly Recommended!)
Go On (Highly Recommended!)

Be their friend.
www.theelected.com

Stumble It!