The Pathways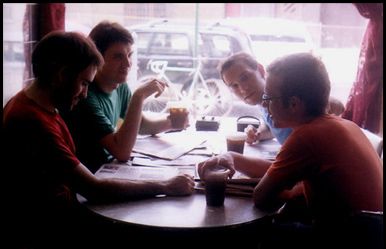 The Pathways
are Mike Dempsey (drums), Leo Goldsmith (bass), Evan Kindley (guitar/vocals), and David Yourdon (vocals/guitar). They all four also play keyboards and together they write some pretty great "forward-thinking" guitar pop.
"Ever since the heyday of R.E.M., The Feelies, and The Go-Betweens, lovers of smart, forward-thinking guitar-pop have been scraping by on a very meager diet. Enter The Pathways: an aural multivitamin from the cultural pharmacy of Brooklyn, NY. The Pathways write charmingly complex and intelligent pop songs without reference to AM radio, argyle sweaters, or nice smiles, that even people lacking advanced degrees or access to illicit substances can enjoy (not that those people are excluded - the more the merrier)." - From The Pathways'
Myspace
.
They just released their debut full length,
Boat of Confidence
, on
RIYL Records
. These guys should be huge, who knows, maybe they will. I recommend listening to "Party's Over" first, you're gonna have this one on repeat for a while trust me.
From
Boat of Confidence
:
Party's Over
(Highly Rec'd)
Stunning Capture
Inner-Alter
Buy
Boat of Confidence
from the
RIYL Store
.

Stumble It!