Statuesque... Again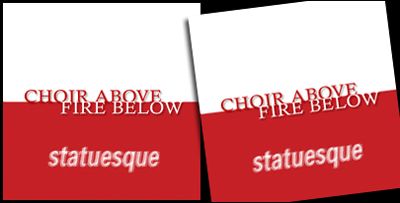 Ok, well, maybe not so much a "band" as it is just one guy. Stephen Manning is the creative GENIOUS behind
Statuesque
. How he is not the biggest thing in indie rock right now, I have no idea. But I will say this may just be my favorite album of this year(even though it came out last year). Watch me, I'll put on my end-of-the-year list, just you wait.
People have said:
"Although his band's level of commercial success may not reflect it, Stephen Manning, who leads this way-far-underground U.K. outfit, is one of the best songwriters working in the pop-rock idiom. Manning's stuff stands up alongside your favourite Smiths, Morrissey and Radiohead records, while sounding totally unique and individual."
(The Big Takeover)
"There are some people who are just blessed with an endless stream of tunes, and Statuesque singer / guitarist Stephen Manning is one of them."
(Los Angeles Times)
"The best English pop band you've never heard is Statuesque."
(CMJ)
I haven't stopped listening to Choir Above Fire Below since it came in the mail the other day. The entire album, start to finish, is amazing. I'll go ahead and say that every song could potentially be be a huge single. Listen to these two songs and tell me they arent some of the best pop songs youve heard all year(or... ever).
From
Choir Above Fire Below
:
Choir Above Fire Below
(HIGHEST REC!!!)
Boys are Lazy Girls are Crazy
(HIGHLY REC'D!!!)
BUY THE ALBUM FROM
125 Records
RIGHT NOW.
P.S. This is my second post on Statuesque within a week. This should probably tell you something...

Stumble It!