Two New Elected Songs!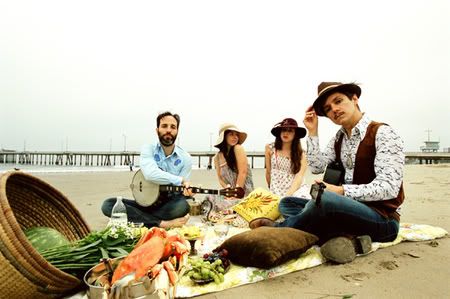 As I posted a little while ago, The Elected are set to release their new album Sun, Sun, Sun via SubPop on January 24. Being a side project of Mr. Sennet of Rilo Kiley, you could imagine to expect the sweet pop goodness of Rilo Kiley to shine through, and it does. But this new album is not only different from his work in Rilo Kiley, it even goes in quite a different direction than their 2004 debut, Me First. Here are two of my favorite songs from the new album, enjoy!
[MP3]: Would You Come with Me
This song is the best example of Sun, Sun, Sun's overall theme, which seems to be travel, dislocation, movement, etc. Its a fairly simple acoustic and electric tune with a choir of ooh's in thrown in the mix. It's the first "actual" song on the album and if you like this song, you'll no doubt love the rest of the album.

[MP3]: Biggest Star
Sennet is pushing his band's sound to much greater depths on this song, mixing organs and strings with a touch of california classic rock. Sennet has spoke before of being influenced by Neil Young, Tom Waits and others and that influence is no more evident than on this track. A perfect album closer with a huge full band climactic end.

P.S. Just to get you even more excited for the new album... Jenny Lewis and Stacey Dupree(Eisley) both make appearances. Jenny even sings a whole song! If enough of you want to hear the Jenny Lewis track, I might just put it up. Let me know.

www.theelected.com
www.matadorrecords.com

Stumble It!