Broken Social Scene Rarities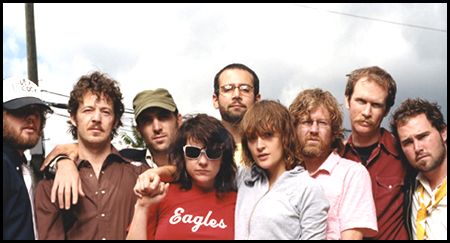 Due to the beautiful weather lately I've been listening to a lot of energentic happy sunshiney bands, or more specifically, a whole lot of
Broken Social Scene
. There's no more perfect song for flying down the road wit the sun shining and a nice breeze blowing than "Almost Crimes" and I don't think there's too many people who will dispute that. Anyway, I came across a couple Broken Social Scene tunes a lot of you probably haven't heard and thought you might like to hear them.
[MP3]:
Broken Social Scene :: Stars and Spit
LINK FIXED :)

This song appears on the forthcoming 7/4 (Shoreline) single, which will be available on March 27th on City Slang/Arts & Crafts, as a CD, 7" and download. If you're feeling detective-like today, you might have already assumed from the title of the track that it is indeed a remix/mash-up of two Broken Social Scene songs, "Stars and Sons" and "Lover's Spit." It uses the instrumentation from both songs and blends them perfectly with the vocals from "Lover's Spit", it's a very interesting listen.
[MP3]:
Broken Social Scene :: Almost Crimes (Acoustic)
There isn't much to explain about this one, other than the fact that it is amazing. Back in June of 2004, Broken Social Scene found themselves at a Parisian radio station and recorded a six song acoustic set that included "Almost Crimes," an Apostle of Hustle jam, an Amy Millan ditty, a new Jason Collett tune and few other "classics." The shear beauty of this version takes this song to a whole different level and since I've heard it, I've found a new love for Broken Social Scene.
Buy
Live at Radio Aligre FM in Paris
from
GalleryAC
.
Watch the new video for "7/4 (Shoreline)"
here
. I really really love this video and Fiest is beautiful as always.

Stumble It!