Early/Rare Mogwai Tracks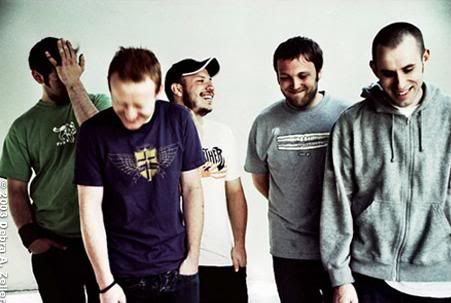 Considering that Mr. Beast is garnering much more popularity for
Mogwai
than any of their previous albums and
the current U.S. tour
and what-have-you, they've been gaining a lot of new fans and I couldn't think of a more perfect time to showcase a few early and/or rare Mogwai songs that I love.
[MP3]:
Mogwai :: Xmas Steps
This song appears on the
No Education = No Future (F*** the Curfew)
EP
(1998)
and is an early version of "Christmas Steps" which later appeared on the album Come On Die Young. Personally, I prefer this version over the CODY version for a couple reasons, one being that it's a bit faster than the later version, and the other reason being that it just feels more raw and powerful. The distortion in the chreshendo on this version feels so much dirtier than on CODY and I really love it that way.
[MP3]:
Mogwai :: Untitled
"Untitled" comes from
Travels in Constants Vol. 12
(2001)
,
a three song EP that Mogwai contributed to
Temporary Residence
's subscription-only Travels in Constants series that began back in 1999. This track, along with the other two tracks on the EP, is a mostly mellow piece complete with distorted guitar drone, piano and drumming that moves in and out of the spotlight throughout the song. In the last 15 seconds there is what sounds like a large woman ranting about "intestinal troubles."
[MP3]:
Mogwai :: Stanley Kubrick
I was so incredibly excited when I saw "Stanely Kubrick" on the setlist last night(they did it beautifully, by the way) as it's probably one of my favorite songs they've ever written. This is probably Mogwai's most haunting sounding track, and mostly built upon a simple drum and distorted and delayed guitar melody, but then builds up to a wave of layered guitars creating a huge bright sound. "Stanley Kubrick" appears on
Mogwai EP+2
(1999)
.
Buy
most all Mogwai releases from
Amazon.com
.
Matt has
a HUGE load of Yo La Tengo by request cover songs
that they performed live on WFMU to aid in their fundraiser. Act Fast.

Stumble It!