New Yeah Yeah Yeahs - "Cheated Hearts"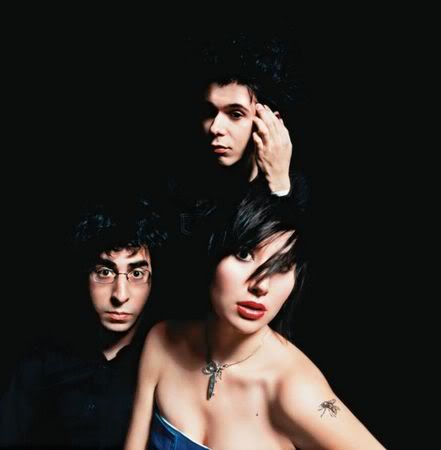 Yesterday the new album
Show Your Bones
by New York art rockers, the
Yeah Yeah Yeahs
was leaked. Discussion on the band's official message board has indicated that this is infact not the final version of the album, which is even worse because, unfortunately when an album leaks, of course their are the fans of the band who will hear it, but still go out and buy the album later, but then you've got to imagine how many people out there will end up just keeping their unfinished version and never hearing the album as the band meant it to be heard. Anyway, as incentive to BUY the album when it comes out, this track is much more convincing then the widely circulated "Gold Lion." I would recommend getting this quick.
[MP3]:
Yeah Yeah Yeahs :: Cheated Hearts
(HIGHLY REC'D!)
In the coming weeks you're gonna hear a lot of people saying "UH OH! Karen O has lost her edge!" and although that isn't completely false, she's still Karen O, and she can still sing the hell out of songs like this. While this song is definitely no "Y-Control" it is definitely an early favorite of mine and I could see it easily being a single. This song practically explodes right as Karen O finishes repeatedly screaming "I think that I'm bigger than the sound!" and just then, the sound does in fact get much bigger when Nick Zinner throws out a charing guitar riff, making me feel like this band hasn't really lost a thing.
I can really argue his logic never having seen Of Montreal myself, but nary a week after declaring Sigur Ros as the best show he's ever been to,
Matt
goes and pulls a fast one on us, moving Om into the top spot.
Read his review of the show
. Wow, looks like he just put up a
Tapes 'n Tapes interview
too. No stopping this kid.
If you haven't yet noticed it on my sidebar, I would like to direct your attention towards
Sings Like Lightening
. My friend Leza runs it and she likes romanticisms and writes a lot better than me, so you should definitely stop by and say hello.
Also, for those of you concerned(and how could you not be?), Circulatory System has of today gotten three of the approximately 25 or so tracks from the new album mixed. There is a light at the end of the tunnel and it looks glorious! Man, I cannot wait!

Stumble It!