The Ian Fays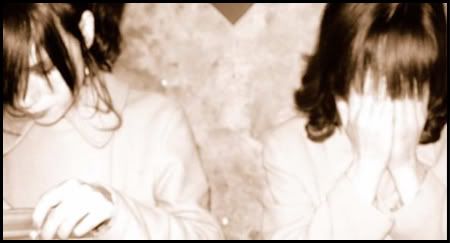 The Ian Fays
are four girls and a drummer, who oddly enough, isn't a girl. The above picture doesn't exactly portray them too well, but I like it, so there. They make sweet dramatic music, creating a mesh of lo-fi Mirah-esque vocals, paired with the dreamy acoustic/electronic juxtaposition of something much like Azure Ray. The band recently signed with Italy's
Homesleep Records
and released their album
The Damon Lessons
on April 24th.
[MP3]:
The Ian Fays :: I Lifted Myself Up
This track appears on the new album, The Damon Lessons. A buzzing electronic drone opens the song to a fast drum machine beat, and for the first few seconds you're thinking, "Oh, it's The Faint," but then the drone and beat dissipate to warm acoustic guitar and a flowing keyboard that turns out to be surprisingly catchy. As you might expect, with four girls, the harmonies are pretty beautiful.
The Ian Fays on MySpace
.

Stumble It!