Antarctica Takes It!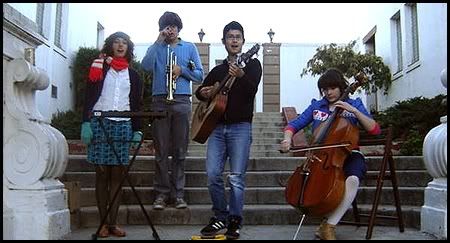 Ever since I started this music blog I've noticed one thing that is consistently proven over and over again, and that's that you can't judge a book by it's cover, or in this case, an album.
The Penguin League
by
Antarctica Takes It!
(who are actually from Santa Cruz, quite the oppostite of Antarctica) is probably the most "homemade" looking cd I've ever recieved, but low and behold, it's fantastic from beginning to end.
Acompanied by acoustic guitar, glockespiel, horns, tambourine, accordian, violin, cello and more, songwriter Dylan McKeever comes across as a sort of Michael Nau in training, spinning wonderfully colorful stories about love, weather and frozen continents, among other things. I'm interested to see what's up the road for these guys, but they're definitely a pop band to keep your eye on. Highly recommended for fans of Page France, Lil' Hospital, et al.
[MP3]:
Antarctica Takes It! :: Circuits
[MP3]:
Antarctica Takes It! :: Antarctica
"Antarctica", the longest running track on the album, clocking in at 4:12, is clearly the albums the climax, and also it's biggest success. In it's mere four minutes it moves through about 4 or 5 seperate movements, all flowing perfectly into one another. The song opens lightly with acoustic guitar, introducing the chilly continent and how it stole their hearts:
"We traced shapes across the starry skies, made our way through each tender night, we heard the weary whales too, and sang along with the silver moon, Antarctica you stole our hearts."
Just after that the song throws it into gear taking you through detours and down back roads until you finally reach the end.
Antarctica Takes It! on MySpace
Turns out Jeff Mangum
DID NOT
post that message on the
E6 boards
. I bet that kid was so psyched when he saw it on
Pitchfork
this morning, I know I would've been. I'm not so bummed, it was kinda too good to be true, but regardless, it's makes Pitchfork look foolish and I'm interested in how they'll dig themselves out of this one.
EDIT:
It's just a joke guys, even I posted it too. Can we not laugh?

Stumble It!