Michael Zapruder's Rain Of Frogs: "The Alchemist"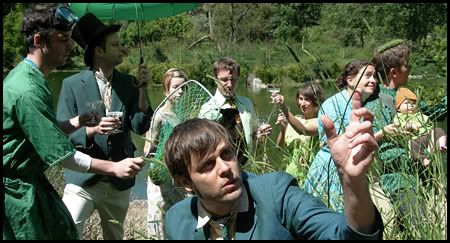 Yesterday I recieved quite possibly one of the best random promo albums that has ever graced the cold steel walls of my mailbox. I kind of held it for a little bit after I took the plastic off, taking in the beautiful packaging, I could tell I was gonna love it. The album is question is
New Ways of Letting Go
by
Michael Zapruder's Rain of Frogs
, a collective of over 15 musicians in and around the San Francisco area including such faces as Nate Query from The Decemberists, Jonathan Segal from Camper Van Beethoven, Scott Solter of Tiny Telephone and many others, all led by the singing and songwriting prowess of Michael Zapruder. Throughout the album Michael weaves imaginative and memorable lyrical melodies around complex flowing arrangments through the use of his very own handpicked orchestra of friends. The opening track, "The Alchemist," is still my favorite after many listens. Check it out below.
New Ways of Letting Go
will be available August 15th on San Francisco's
Howell's Transmitter
label.
[MP3]:
Michael Zaprider's Rain of Frogs :: The Alchemist
This song is, as you might have gathered, a very brief look into the life of an alchemist. An Alchemist that seems to be known by everyone, but believed in by no one. The music fits the lyrics perfectly, beginning with somber piano that eventually picks up an acoustic guitar and some violins. After moving gently through two choruses the song breaks into a full-on orchestral tidal wave, rising higher and higher until breaking back into one final extended chorus. Now I know I tend to say this somewhat frequently, but in all seriousness, this is one of the finest songs I'll probably hear all year.
Michael Zapruder's Rain of Frogs on MySpace

Stumble It!