Panda And Angel: "Dangerous"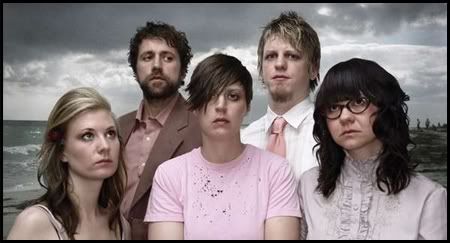 One of
Jade Tree's
most recent signings,
Panda And Angel
are finally ready to drop their self-titled EP, which will see a release on July 25th. Panda and Angel is a relatively new collaboration between Carrie Murphy of Touchdown Eagle, Josh Wackerly of S and several other members. In simple terms, their sound is very moving, their music can move from delicate melodies and vocals into a wall of graceful distortion in the blink of an eye. That's what makes this band very interesting to me though, songs with large expansive chreshendos always get me and Panda and Angels have got 'em down. I've absolutely in love with this song from their upcoming EP:
[MP3]:
Panda And Angel :: Dangerous
(Highly Rec'd)
The song starts out with a bubbley beeps and pops and then a low lying guitar line comes in and it's a only a matter of seconds until Panda and Angel turn on the distortion and set the song in motion. But the wave distortion leaves as quickly as it came and gives way to a tempo change and handclaps! I don't know about you guys, but I feel like some perfectly placed handclaps can take a song from good to amazing just like that. But no, they don't stop at handclaps, after a few more movements through the song, a definite buildup begins that eventually leads the explosive ending I was hoping for the whole time.
Preorder
the self-titled EP from
Jade Tree
Panda And Angel on MySpace

Stumble It!