Canasta: "Slow Down Chicago"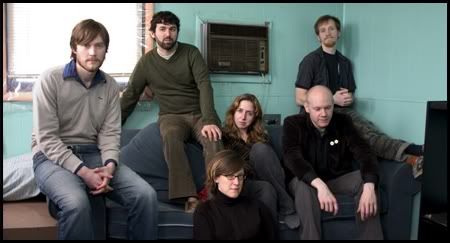 Earlier today when perusing
Bound Stems'
MySpace I decided to check out some of their "Top 8" friends and the first one I clicked was
Canasta
. Turns out, clicking on Canasta's picture was probably the best decision I've made all weekend. It seems to me that Chicago has been pumping out nothing but great pizza and great indie rock bands for the past couple years. Like their pals Bound Stems, Canasta embody a very thick lush sound, using many different instruments such as: violin, clarinet, piano and trombone to flesh out very catchy, yet surprisingly intricate melodies.
Their self released debut album
We Were Set Up
, released last year, garnered heaps of acclaim from publications like PopMatters, Splendid and The Onion, but never really made an impact on the blogosphere, which I found to be very strange because I am eating this stuff up. Lead vocalist Matt Priest has an incredible range and I can't seem to pin down whether I think he sounds like Colin Meloy, Sufjan Stevens, or Freddy Mercury because he adapts his voice so uniquely to each song that it seems to always be changing. This song, from last year's
We Were Set Up
, has been described as "pure chamber-pop bliss." I'm gonna have to go ahead and second that.
[MP3]:
Canasta :: Slow Down Chicago
(Highly Rec'd!)
I was hooked by this song after just a few seconds of that opening organ line. Like I've said before (and who could really disagree?), a solid infectious keyboard or organ line can take even a barely average song and turn it into something great. Lucky for us, this song would be great even without the humming background keyboard, so it's just like the cherry on the top. Funny thing, I didn't even notice the horns in the chorus until about my fourth listen to this song. The fact that there's just so much going on that you're still hearing something new on the fourth listen is really impressive to me.
BONUS [MP3]:
Canasta :: The Model (Kraftwerk cover)
(Highly Rec'd!)
Buy
Canasta records
here
Canasata on MySpace
These guys are unsigned by the way, so to any labels reading this: What are you waiting for?!

Stumble It!