Grizzly Bear: "Knife"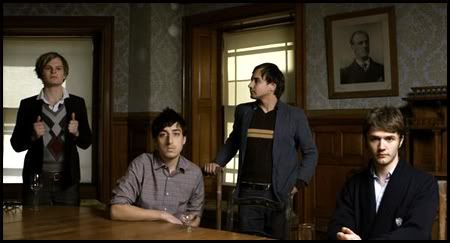 I haven't had
Grizzly Bear

's
new album
Yellow House
long enough for it to have made it onto my "Top 10 Records of 2006 (...So Far)" list, but it's really been growing on me a lot lately and at this rate it's got a very good chance of making it onto my end of the year list. I can't tell if that was a run-on sentence or not, but I'm gonna go with yes. I' finding a lot more to love on
Yellow House
than I did on their previous album,
Horn of Plenty
. They haven't lost their experimental roots, but on the new album it's evident they've gained a lot of pop sensibilities. Take this song for example, my current favorite from Yellow House.
[MP3]:
Grizzly Bear :: Knife
The opening of this song makes me feel like I'm some kind of limbo between life and death where hundreds of spirits are flying around me talking and whispering to each other. As strange an image as that it is, I find it to be immensely comforting and beautiful.
Yellow House
is without a doubt a night time album, and this song, like many others on the album is the perfect song to wind down to after a long exausting day.
Yellow House
is due out in early September and will be released by their new label home,
Warp Records
.
Grizzly Bear on MySpace

Stumble It!