Nethers: "Migratory Birds"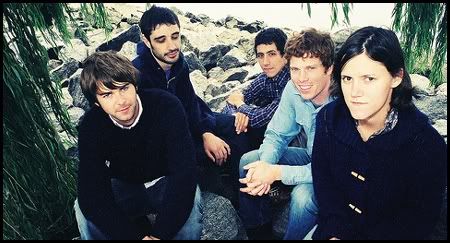 I can now safely say that
Nethers
are most definitely my favorite local band (I consider DC local because Annapolis' music scene sucks). After the demise of the obnoxious DC indie rock band The Carlsonics, the members hid out in the mountains of Nethers, Va for a while. The remaining members eventually reappeared as changed men (and women) now focused more on a sort of alt-country indie pop sound, with original vocalist Aaron passing on full-time vocal duties to bassist Nikki West, who has an amzingly beautiful voice, by the way. After seeing them open for the Walkmen last week (they stole the show, in my opinion), my love for them grew even stronger and my love for their new album
In Fields We Will Lie
(
Box Theory Records
) grew even stronger as well. This song gave me a shiver the first time I heard it, it's just gorgeous.
[MP3]:
Nethers :: Migratory Birds
(Highly Recommened)
Opening with the soft hum of electric guitar, Nikki comes in basically alone with a brilliant vocal delivery for the majority of the song until a soft snare and guitar comes in to join her. The drums and guitar slowly get stronger and stronger, rising up to the sky and then Nikki comes back in taking even higher with her country noir-esque vocals that send shivers down my spine everytime I hear them. Like I said above, absolutely gorgeous.
Be their best friend on MySpace
Buy
In Fields We Will Lie
from
Insound.com
Nethers will be heading out in June on a month long tour supporting Dungen. If they come to yout town, I couldn't urge you enough to get out and see them, even if you hate Dungen, go for Nethers!
6/2: Chicago, IL Logan Sq.
6/3: Columbus, OH Little Brothers
6/5: Detroit, MI Magic Stick
6/6: Toronto, ONT Lees Palace
6/7: Montreal, QUE La Salla Rossa
6/8: Boston, MA Middle East
6/9: Northampton, MA Iron Horse
6/10: New York, NY Irving Plaza
6/11: New Haven, CT BAR Nightclub
6/12: Philadelphia, PA, First Unitarian Church
6/14: Washington, DC Black Cat
6/15: Charlottesville, VA Satellite Ballroom
6/16: Asheville, NC Grey Eagle
6/18: Atlanta, GA The Ear

Stumble It!