We Know Where You Sleep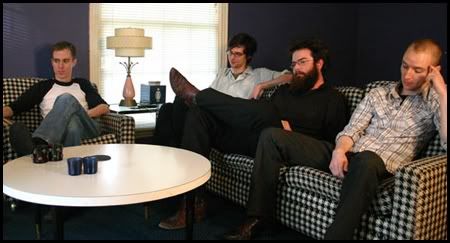 On 6/6/06
Kill Rock Stars
will release
Now You Are One Of Us
, the new album from the ultra-depressing Dallas quartet
The Paper Chase
. Led by John Congleton's trademark desperately terrifying lyrics, shrill vocals, and excessively meticulate production, the band moves through an album full of strings, crashing pianos, crackling samples, bone-crushing drums and wailing guitars that sounds like it fell right out of an early zombie film. Afer hearing this new song, I'm anticipating this album even more than I already was, if that's even possible.
[MP3]:
The Paper Chase :: We Know Where You Sleep
(Highly Rec'd!!)
Any fans that here this song will automatically think they've heard it before, well at least the intro, that is. This song employs almost exactly the same piano melody in the intro as "What I'd Be Without Me" from 2004's
God Bless Your Black Heart
. The only real difference is that in "We Know Where You Sleep" the piano is in a much lower key, ultimately alluding to the what the rest of the song feels like. The comparison leaves right as strings begin to build up in the background, which eventually overtake the piano and lead the verses to terrifying heights. The guitar immediately following when Congleton first cries "I am prepared to set myself on fire for this!" is where I fell in love with this song and it just kept getting better from that point on.
But
with all of this good news comes some not-so-good news for Paper Chase fans in the UK.
I hate to carry the bad news, but our UK tour has been cancelled. There was an illness in the band. It all happened very suddenly on the afternoon we were to catch our flight. Unfortunately, there was no way around it.

On the brighter side: health matters have been tended to, recovery is in process and everyone is going to be OK.

We know that some of you will be quite disappointed. I can assure you that we share your frustration. After all, Dallas, TX isn't exactly the most beautiful place to be stuck this time of year.

The tour is currently being rescheduled for the fall. We'll let you know as soon as these dates materialize.

Kirkpatrick

Stumble It!