Dance On The Dead Man's Ashes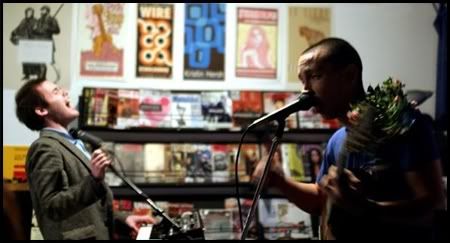 You know those bands where you keep saying you're going to listen to them and then it takes you months to finally listen, but then you do and it's awesome? While that may be the worst lead-in ever written, it
is
pretty much all true in the case of
Asleep in the Sea
. These guys know to have fun with music like we haven't seen since perhaps The Unicorns. Catchy melodies, ridiculous lyrics, call and response, breaking glass, handclaps, recorder, it has all the makings of a Unicorns album, and guess what? It almost is, but it's also not The Unicorns because it's Asleep in the Sea and they're definitely their own band. In two years they've acomplished quite a bit: they put out an EP entitled
Yay! OK. Yeah?
, did southwest/west coast tour, played SXSW 2k5, did some more southwest/CA touring, released an untitled 6-song EP, and meanwhile played with a bunch of fancy bands such as the Fiery Furnaces, the Good Life, Elefant, the Helio Sequence, Dios Malos, and Hella. They are currently recording their debut full-length and piecing together a full U.S. tour for this Summer. This here song is really
really
awesome, if you say you don't like it I'm not going to believe you.
[MP3]:
Asleep in the Sea :: Dance On
(Super Highly Recommended!)
"That kid can be a violent son of a bitch / Hey man I'm sorry to hear that / It's cool, sometimes I just gotta veg / Hey man that's what I'm here for / You're a pal / You deserve it / I f***ed up / Forget about it / I can't / Why not? / I just can't / Alright / Let's go / Where we headed? / To the park / Where's it at? / Who knows? / Not me / We can tie him up to this tree / We can build wood up to his knees"
Buy
Yay! OK. Yeah?
and the untitled EP from
the band's store
for cheap cheap cheap!
Asleep in the Sea on MySpace

Stumble It!