The Pipettes Cover "I Think We're Alone Now"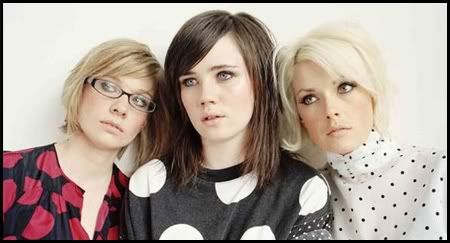 The Pipettes can do no wrong in my book and this further proves it, because the original "I Think We're Alone Now" by Tommy James & The Shondells is oddly enough, one of my favorite songs ever. So for them to do justice to a song that I've cherished since I was ten years old just makes me love them even more than I already do, if that's even possible. Now in all fairness though, this song was kinda
made
for them to sing, don't ya think?
[MP3]:
The Pipettes :: I Think We're Alone Now
(Tommy James cover)
This vocals and lyrics of this song seem almost like they were written to be sung by The Pipettes. Their cutesy polka-dotted personalities suit really suit the song well and they bring a new life to the song that wasn't quite their in the original. This new life of course is the triple female vocal harmonies that I'll bet Tommy James had never thought would grace his wonderful song. Highly Recommended!
Bonus! Bonus!
I don't think there's anyone who hasn't heard this song, but have you ever really appreciated it for the amazing pop song it is? Appreaciate! Now!
[MP3]:
Tommy James :: I Think We're Alone Now
And just a reminder
, the "Pull Shapes" single comes out July 3rd on
Memphis Industries
on Orange Vinyl, Yellow Vinyl, and CD:
MI071S1 (Orange Vinyl)
A) Pull Shapes
B) Guess Who Ran Off With The Milkman?
MI071S2 (Yellow Vinyl)
A) Pull Shapes
B) Magician Man
MI071CDS
1) Pull Shapes
2) Really That Bad
The Pips on MySpace
!

Stumble It!