Dear Paris Is Burning After All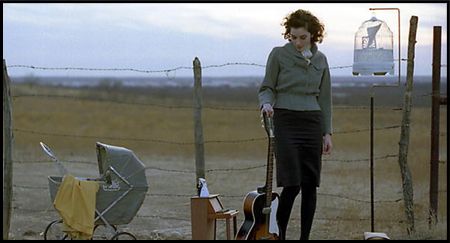 I have
Chris
to thank for introducing me Annie Clark a while back. As most of you might know already,
St. Vincent
is the new project of Annie Clark, who is also a member of The Polyphonic Spree, who I also happen to love. St. Vincent, first of all, is nothing at all like Annie's work in The Polyphonic Spree. Today Annie put up a new song on St. Vincent's MySpace called "Paris is Burning." I love everything else I've heard from St. Vincent prior to today, but I still didn't expect this song to be as eerily good as it is. Is eerily even a word? P.S. This is a MySpace rip, so yeah.
*EDIT*
Sorry Annie, I wasn't aware that you didn't want this out and about yet. Readers: Please just go to Annie's MySpace to listen, it's really very worth it.
*EDIT*[MP3]:
Listen to "Paris is Burning" on St. Vincent's MySpace
This song opens with dark horns that, given the current blog obsessions out there, might make you think of Beirut. The rest of the song though, all Annie. Her voice is so infectious and beautiful and the way she structures her singing, it might as well be an additional instrument. The bassline and guitar is the verse brings about images of an army of troops marching with tanks to the left and right. Then the handclaps come in, and the strings, and the vocal harmony, and it just keeps rising in strength until it all comes to an abrupt hush. Annie is a very good guitarist.
St. Vincent on MySpace

Stumble It!