Pony Up!: "Dance For Me"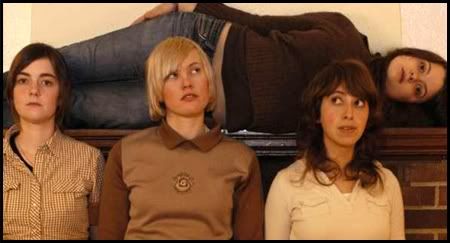 I've been really into girl vocals lately: The Pipettes, Camera Obscura, Nethers, The Grates and just this past weekend I picked up
Make Love To The Judges With Your Eyes
, the new album from
Pony Up!
. Pony Up! is a four girl, all girl, pop band from Montreal and is are a lovely addition to my current growing obsession with female vocals. If there's one these girls are good at, it's being catchy. I was hooked and pretty blown away by this track (which happens to be the first track on the album) within the first 30 seconds and I couldnt turn away from anything on the album after it.
[MP3]:
Pony Up! :: Dance For Me
(Highly Recommended!)
I had heard a wee bit of Pony Up! before I bought this album but was never super-impressed by what I heard, I bought it solely because I love girl bands lately and to be quite honest, I totally did not expect to hear a song this good. The rest of the songs are very catchy and there are a few others that come close to this one, but this is just untoppable. I guarantee you that after the first time she sings "Dance for me, I like to watch" you will be hooked, and it gets even better after that with a piano solo that comes out of nowhere and proves that these girls have got some serious songwriting talent.
Bonus[MP3]:
Pony Up! :: The Truth About Cats And Dogs (Is That They Die)
Compliments of the lovely folks at Dim Mak.
Buy
Make Love To The Judges With Your Eyes
from
Dim Mak Records
.
Pony Up! On MySpace!

Stumble It!