Pants Yell! Cover Jens Lekman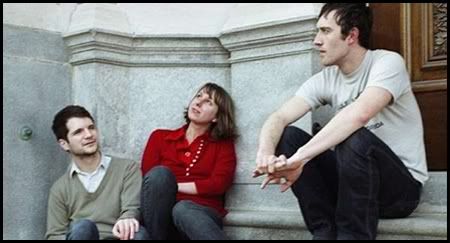 Pants Yell!
are currently one of my favorite bands out of all of the bands in the world and much to my dismay, there were several tracks from Asaurus' now defunct EP Club that I had not heard. I have finally gotten my hands on said tracks via my good pal Andy and they were sooooo worth the trouble. One of my favorites of the EP Club tracks was this Jens Lekman cover.
[MP3]:
Pants Yell! :: Tram #7 (Jens Lekman Cover)
You could've fooled me that this was a cover on first listen. Jens' lyrics fit Pants Yell!'s style so well that I would've just assumed they wrote it themselves had I not known otherwise. This is a great song for just cruising down the road watching the scenery go by, I kinda wish they would do more slow pretty songs like this and "Our Turf" from
Recent Drama
.
[BONUS MP3]:
Pants Yell! :: The City Life
If you still dont own
Recent Drama
, well then shame on you because it's probably my favorite album of the year so far. If you are interested in hearing the best pop album to grace your ears thus far in 2006 then head over to
Asaurus
and
give them your money
immediately.
Happy first of June everybody! I'm gonna go play some frisbee after work and enjoy the lovely weather we've been having in Maryland lately!

Stumble It!