New Paper Airplanes: "Belovedaire"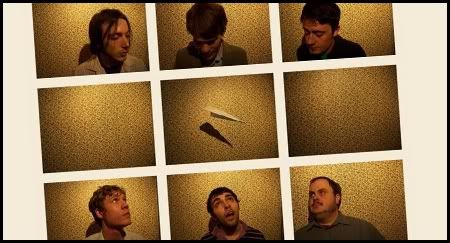 Paper Airplanes
are finally finishing up their follow up to last year's
Boyhood
, which I actually didnt hear all of until several months ago. But Since I heard it I've been craving some new stuff. The new album, titled
Scandal, Scandal, Scandal, Down in the Cornfield
is sure to be amazing if this new song is any indication of the album as a whole. When release dates and other suchness materialize, I'll be the first to let you know, because I'm obsessed like that.
[MP3]:
Paper Airplanes :: Belovedaire
(Highly Recommended!)
This song opens with the same epic-ness of the song "The Fences" that appeared on last year's Boyhood. A whining organ and acoustic guitar build up together and then comes a big crash hit opening of the flood gates letting a mass chorus of vocals rise up to the clouds. The song soon changes pace, slowing down slightly for the verse full of high-hat and vocal harmonies. The thing I love about Paper Airplanes is that everyone of their songs always goes exactly where you hoped it would go. There's always something bigger and brighter lurking around every corner of their songs.
Paper Airplanes on MySpace

Stumble It!