Dear Paris Is Burning After All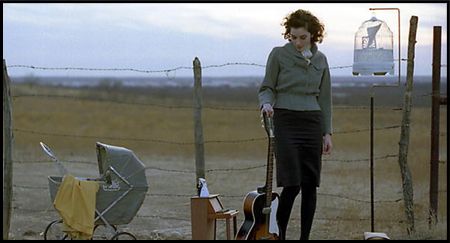 I attempted to post this track up
about a month ago
but, apparently Annie wasn't ready to have the song out for download yet, so I took it down about a half hour after posting it. For those of you who are unfamiliar with
St. Vincent
, it is the new project of Annie Clark, who is also essentially the lead guitarist of
The Polyphonic Spree
, who I also happen to love.
Starting tonight in Boston, St. Vincent will begin a small string of tour dates on the east cost with
Pattern In Movement
. I have yet to see her live, but I am expecting nothing but amazing things when I see her at Revolution Records in Washington, DC next week. If you still need convincing just listen to this incredible track from St. Vincent's upcoming full length.
[MP3]:
St. Vincent :: Paris Is Burning
This song opens with dark horns that, given the current blog obsessions out there, might make you think of Beirut. The rest of the song though, all Annie. Her voice is so infectious and beautiful and the way she structures her singing, it might as well be an additional instrument. The bassline and guitar is the verse brings about images of an army of troops marching with tanks to the left and right. Then the handclaps come in, and the strings, and the vocal harmony, and it just keeps rising in strength until it all comes to an abrupt hush. Annie is a very good guitarist.
Here are the dates (with
Pattern Is Movement
):
June 09 The Paradise Lounge (Boston, MA)
June 11 Gloucester YMCA (Gloucester, MA)
June 12 Valentine's (Albany, NY)
June 13 The Bog (Scranton, PA)
June 14 Revolution Records (Washington, D.C.)
June 15 The Knitting Factory (NYC)
June 16 The Trocadero (Philly)
June 17 The Catacombs (Butler, PA)
June 18 Pete's Candy Store (Brooklyn, NY)*
*with Rachael Cantu.
St. Vincent on MySpace

Stumble It!