Brown Recluse Sings: "Lazy Bones"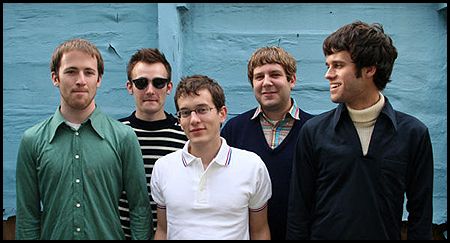 Philadelphia's
Brown Recluse Sings
are one of my new favorite bands. Since I saw them, 3/5's of them atleast, in Baltimore back in May I've been stuck on them. Headed by Timothy Meskers(
The Harbor Lights
) and Herbie Shellenberger(
Brrr
), they play mostly acoustic driven indie pop in the same vein as perhaps Pants Yell! or Voxtrot. Their songs are the type of songs you immediately fall in love with, the melodies of acoustic guitar and keyboard are very warming and always seem to put me in a good mood. They've recently finished an as-yet-untitled six song EP, that should see a release sometime in early July.
[MP3]:
Brown Recluse Sings :: Lazy Bones
(Highly Rec'd!)
I've been asking them for an MP3 of this song for a couple weeks and I finally got it to share with you guys! I heard the rough mix of it about a month back and then when I heard it acoustic I noticed how great the harmonies were because there was no percussion to distract me and they did a great job mixing this version, because the vocals sound perfect. Also near the halfway mark, you'll notice they threw in a quick bit of harp for that little extra loving touch.
They have a couple shows coming up in the Pennsylvania area, so if you're up there I highly recommend you go and see them play their instruments and sing their words.
Instrument playing and word singing:
7/12/06 Kensington South Forum
Philadelphia, PA
*
7/13/06 GoodVibes
Kutztown, PA
*with Acid House Kings and The Legends
Brown Recluse Sings on MySpace
BONUS [MP3]:
Brrr :: Mayfield
BONUS [MP3]:
The Harbor Lights :: Summer

Stumble It!