Lullatone: Wake Up Wake Up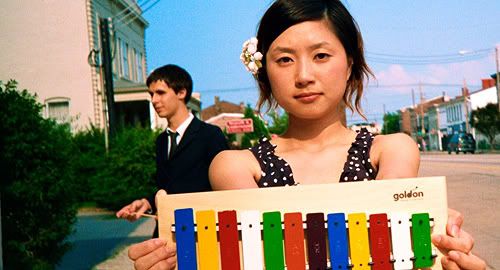 Shawn and Yoshimi of Lullatone
I've been a big big fan of
Lullatone
for sometime now thanks to my good pal Sydney, but I guess it had always slipped my mind to mention them here. Well, as it turns out, I'm still in the game, because they're still virtually un-talked about around the blogs. So, as you may know, here at Skatterbrain we like to bring you the cute, and there's really nothing cuter than "pajama pop."
Lullatone
is Shawn James Seymour and Yoshimi Tomida and they make cute music, they like to call it "pajama pop." Layering bell tones on top of even more bell tones along with keyboards and other various noise making devices Shawn and Yoshimi create pocket-sized dreamscapes that you'll find yourself getting lost in anytime of the day, although, I'd be hard pressed to find something more absolutely perfect for getting up in the morning than "Wake Up Wake Up."
[MP3]:
Lullatone :: Wake Up Wake Up
(Recommmmmmended!)
[MP3]:
Lullatone :: Leaves Falling
(Reccccccccommended!)
Sometimes when I listen to a song with my eyes closed I can get a totally different feeling from the song, and that's the case with Lullatone, except
all
of there songs are better with your eyes closed. In fact, I feel like you almost miss half of the enjoyment of it with your eyes open. As soon as the bells come in on "Wake Up Wake Up" I can see little balls of color popping inside right in front of my face, and as layer after layer pile up upon each other it becomes just a wash of colors, flashing and popping. It's something alright, it's something really great.
Their latest full length,
Little Songs About Raindrops
was released last year by
Audio Dregs
in the U.S. You can
buy
it at
Amazon.com
for like fifteen dollars.
Lullatone on MySpace

Stumble It!