Remembering Free Loan Investments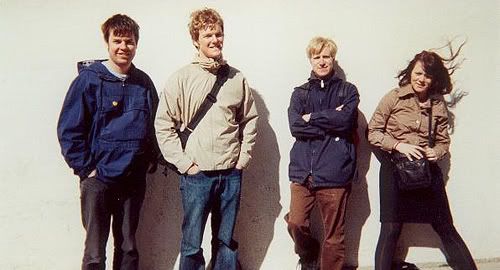 Free Loan Investments' lifespan was short, but
very
sweet.
I suppose I should have written up this post quite a longer while ago, but I guess it's better late than never. For those of you familiar with
Free Loan Investments
, I'm sure you can agree with me when I say their end was very untimely. They could have made so much more great music. I'm sure there are many people out there that are much more knowledgable about the band, but what I do know was basically all gleaned from
this Twisterella interview with Free Loan Investments founders Amanda Aldervall and Roger Gunnarsson
.
What I can say is that they released three fantastic singles --- the "Pretentious Girl" 7" on the Socialism label, the "Puppy Love" 7" on England's
Where It's At Is Where You Are
label, and one more on Micke Granberg's Booff label --- and one equally great EP, put out by
Shelflife Records
in 2002. Some time following the release of the
Ever Been To Mexico?
EP the band decided to call it quits. It was quite the shame too, as they had a more solid grasp on that "tweepunk" sound than any other "new" band really ever has, I think. Take a listen and you'll understand why their short stint was so unfortunate.
[MP3]:
Free Loan Investments :: Dayplanner
(Highly Recommended!!!)
[MP3]:
Free Loan Investments :: Ronan Keating
(Highly Recommended!!!)
[MP3]:
Free Loan Investments :: In The Park
(Highly Recommended!!!)
I suppose I could have just wrote: "All songs are highly recommended!" but that just wouldn't have been nearly as fun. No sir. If you like Heavenly, Talulah Gosh, The Fat Tulips, Tiger Trap, etc, etc, then you'll no doubt love this (if you don't already do).
P.S.
If you're one of those people who already do, and you happen to have an MP3 of "Bomb The Bourgeoisie," I would forever be in your debt if you could get it to me.
You can still pick up their Ever Been To Mexico? EP in Shelflife's shop for, like, $7

Stumble It!