Le Futur Pompiste: "Seeds"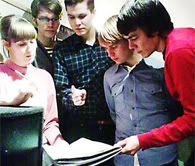 I came upon
Le Futur Pompiste
sometime this past winter and have been casually listening to them on and off since then, but today their song "Seeds" came up by chance on shuffle on the good ole iPod and it's just so good I figured I must post it. The band, five guys and one gal from Finland, play a sort of 60s/bossa/lounge influenced pop that fans of Broadcast and Stereolab would pretty much rejoice in.
[MP3]:
Le Futur Pompiste :: Seeds
(Very Highly Suggested)
Whenever I listen to this song I just can't help but want to go outside, lay down and just watch the clouds move through the sky -- the sunny sky, of course. Half of the reason this band succeeds so well in the music they make is Jessika Rapo's totally authentic smokey-sounding vocals, plus her vocal melodies aint too shabby either. The subtle keyboards in the verses juxtapose really nicely with the pulsing keys they eventually turn into for each chorus, exemplifying exactly what a true chorus is supposed to do: lift the song up.
"Seeds" comes from their 2004 album
Your Stories And Your Thoughts
, released by Siesta Records. If you'd like to, you can buy it from Siesta's shoppe,
right here
.
Le Futur Pompiste on MySpace
Labels: Finland, Le Futur Pompiste, Siesta

Stumble It!