Meneguar: "Bury A Flower"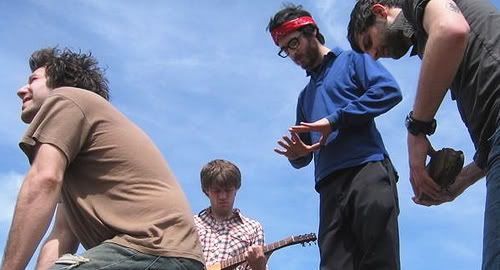 Meneguar
I've never noticed New York's
Meneguar
being talked about that much, which kind of surprises me a lot. When I started listening to them I figured I was relatively late on the bandwagon, but I dont know, maybe I'm not. They released their debut record
I Was Born At Night
in 2005, then a 7" last year and a re-release of the same debut record. I haven't heard much of
I Was Born At Night
, but the 7" single they put out last year on
Troubleman
is ridiculously good and it's basically been my summer jam for the past month or so. It's called "Bury A Flower" and it's ace! The guitars and drums are very driving -- perfect to dance to -- and when the tom roll-filled bridge breaks back into the chorus it's pure awesomeness, just you wait and see. Stay armed with photographs, indeed.
[MP3]:
Meneguar :: Bury A Flower
(Highly Recommended!)
If you want, you can buy their records from
Troubleman Unlimited's shop
Meneguar on MySpace
Labels: Meneguar, New York, Troubleman Unlimited

Stumble It!