Black Kids: "I'm Not Gonna Teach Your Boyfriend How To Dance With You"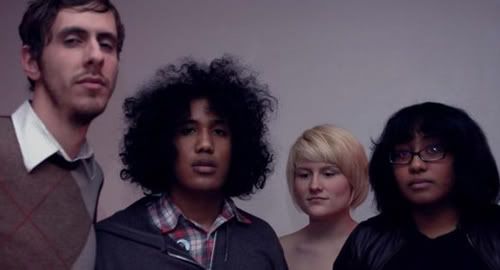 Black Kids
From Jacksonville, FL come the
Black Kids
! I regrettably wasn't there, but apparently they were THE sensation of the Athens Popfest this year. These four kids make what would be best described as jangly electro dance pop, and they do it really, really well. Dual keyboards, courtesy of the band's two ladies, buzz and beep around each other creating ultra-catchy melodies that most of their songs tend to rely on. But right when you think it's just some 80s synth gimmick, there's some jangy guitar (though it could/should be brought up in the mix a bit), and excting enough drumming to round it out into what's really a great, fairly fresh sound -- especially when you throw in the fact that lead singer/guitarist sounds like a less morose Robert Smith. I've read in several reviews of their performance at Popfest that the recordings floating around don't even begin to touch their live sound, and in some respects, actually degrade it. I'm still totally in love with this song though, and I can't wait to hear it live sometime.
[MP3]:
Black Kids :: I'm Not Gonna Teach Your Boyfriend How To Dance With You
(Really, Really Recommended!!!)
Black Kids on MySpace
Thanks to
Elizabeth
for the tip!
Labels: Athens Popfest, Black Kids, Florida

Stumble It!