Tillmanns: "Heavy Rotation"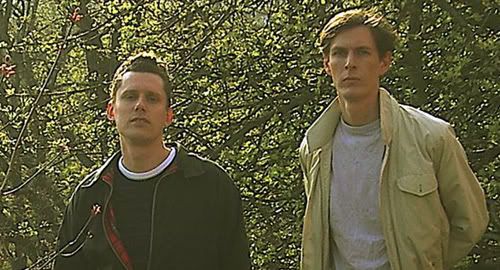 '85 in '07
If there's one band out there right now absolutely nailing that 1980s Factory Records sound it's Göteborg's own
Tillmanns
. The Tillmanns lie somewhere between The Stockholm Monsters and The Wake, specifically around the
Here Comes Everybody
era. The duo have just released their first LP,
A Careless Lifestyle
, on Sweden's consistently flawless Fraction Discs and the first single, "Heavy Rotation," is a repeat-worthy kind of excellent!
[MP3]:
Tillmanns :: Heavy Rotation
(Real Highly Recommended!)
You can pick
A Careless Lifestyle
, as well as their previous 7", from
Fraction Discs
right over here
. Might I also suggest Liechtenstein's "Stalking Skills" 7" while you're poking around over there. ;)
Tillmans on MySpace
ELSEWHERING:
My pal Chris just started a pretty SWEET contest over at
Culture Bully
today. What kind of contest? Well it's his
"second annual month-long Choose Your Own Giveaway contest where you have the opportunity to choose the prize you want each and every day during the month of September! Today's options are: The New Pornographers, Bon Iver, The Twilight Sad, Pela & Kate Walsh."
Can't beat that!
Head over to Culture Bully
for more details on how to enter. He also just launched a brand new site design, so go tell him how great it looks!
Labels: Factory Records, Fraction Discs, Liechtenstein, Tillmanns

Stumble It!