Dum Dum Girls!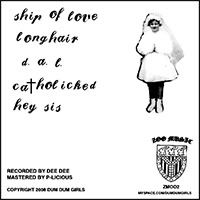 MySpace is the gift that truly keeps giving (though it would be nice if they had not completely fucked up the music player and made downloads impossible), and this week they've given me
Dum Dum Girls
! Reverb? Yes! Fuzz? Yes! Catchy melodies? Yes! Dum Dum Girls – who I'm assuming are named after the Talk Talk song – is actually the project of just one Dum Dum Girl – a Librarian from L.A. named Dee Dee. Dum Dum Girls are already being compared to their contemporaries, Vivian Girls, but even early on I think Dee Dee's catchy melodies are leaving the other Girls in the dust. For reference, think buzzsaw electric guitars and moody female vocals ala Johnny Johnson or Tracy Tracy (basically any female vocalist with similar first and last names!). I've been listening to the songs on the
MySpace
quite a lot for the past couple days, and I've decided that if both Knight School and Dum Dum Girls were on Match.com, they would end up a very happy couple. I just ordered the Dum Dum Girls' debut EP from Zoo Music and I think you should, too!!! You can do that
HERE
!
Listen to my personal favorite, "Catholicked"
Dum Dum Girls on MySpace!
Labels: Dum Dum Girls, Vivian Girls, Zoo Music

Stumble It!