A 21st Century Pop Song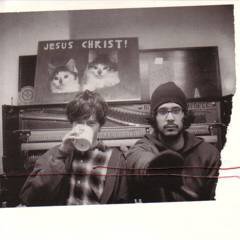 This song is about 3 years old but I just now stumbled upon it(as well as the amazing album that it comes from) and I'm really digging it. Check it out.
"The pair merge slick hip-hop production tricks with indie guitar riffing to overlapping vocals that tackle ideological cynicism, the futility of mundane existence, and atomic bomb survival tactics. Lines like, "You put your life in the hands of the highway designers/ Your stride and unforeseen side effect/ Of the urban planner's realized blueprint dream," express feelings of marginalization and impotence. The song's melodic chorus ("It's root root root for the home team") ties the awkward verses together and shows a strong pop sensibility that continually rears its head over the course of the record."
-
PitchforkMedia.com
[MP3]:
Hymie's Basement :: 21st Century Pop Song
Buy it at Amazon
.
GvB's got a
track from Sparrow House
(Voxtrot's Jared Van Fleet) and it's amaaaaazing.

Stumble It!