Architecture In Helsinki - "Love Is Evil - The Prequel"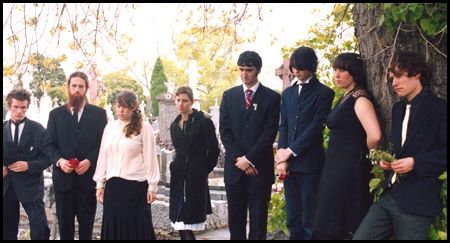 I know what you're thinking. "Hey, what going on?
Architecture in Helsinki
don't have anything new coming out." And you're right, they don't, this song is relatively old. However, I imagine a lot of you, like myself, hadn't heard it until now due to the fact that it appears on a limited edition
Do The Whirlwind
7". An extended version of "Do The Whirlwind" also appears on this same 7", along with two other tracks one of which is a remix. Aside from "Do The Whirwind," this is the most interesting track from this 7". Also, keep in mind this is a vinyl rip. Okay? Okay.
[MP3]:
Architecture in Helsinki :: Love Is Evil - The Prequel
One word to describe this song would be bizarre. Pulsing synths and kindergarten class-sounding percussion is accenting by rapping. Yep, Architecture in Helsinki can rap. Now, this isn't the kinda rap you'd leave the sticker on your hat for, but it's highly entertaining. But Architecture in Helsinki are too cool to just rap normal the whole way through, so about halfway through, japanese rapping. Did you expect anything less from these guys? Yeah, me niether.
Matt
doesn't like the
new Walkmen song
he posted, I think it's pretty awesome, the horns are a bit odd, but it's a pretty good song.
The Paper Chase
have a few samples from the upcoming album Now You Are On Of Us streaming on
their website
. I'm so excited for this album already, and now I cannot wait, it's sounding too good.

Stumble It!