Eagle And Talon
"LA-based indie/art girl band with encrypted tunings, furious drumming and a little casio. If you like sleater-kinney, gang of four, deerhoof, black sabbath and modest mouse these girls will break your legs."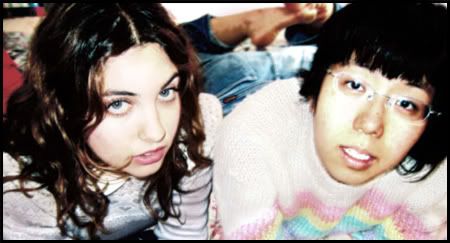 Eagle and Talon
is predominantly the music of Kim and Alice Talon. Yes, Talon, however, there's no way that that could be a last name, let alone both of their last names. But it really makes you get into the story huh? Apperently described as the founders of "leotard rock", Eagle and Talon splice Kim's angular guitars and intricate rhythms with blasts of Casio and pounding drums courtesy of Alice.This track comes from their Eagle and Talon Cares EP, released earlier this year.
[MP3]:
Eagle and Talon :: Bird That Breaks
The song opens with a sloshy grinding guitar eventually getting picked up by some speedy drums and taken on a trip through a wild chorus full of yelling and squeeling call and response vocals. These girl's voices work together so well together with the sharp edges of the rhythm, but it's not all the music, they can write too, weaving social commentaries into verses like: "They hide the bird feed/They hide the bird that breaks/We keep our windows closed/We leave the vacuum on."
[

BUY

]:
Eagle and Talon Cares EP
by Eagle and Talon
Eagle and Talon on MySpace
.

Stumble It!